How do I change Timezone setting on my device?
Time Lock on your ParSon account is dependant on the "Timezone" setting on your device. Should you travel or change timezones, all you need to do is change the setting on your mobile device's setting.
Editing Control / Restriction of the device
ParSon can remotely enable and disable Restrictions on a device. To edit a restriction open the ParSon Parent App on your device:
Tap the "Device Name" you wish to control > tap the Control tab > Edit Restrictions
In this example, I have DISABLED Camera, Social Account Settings, WebFilter, Timer, Alarm and Home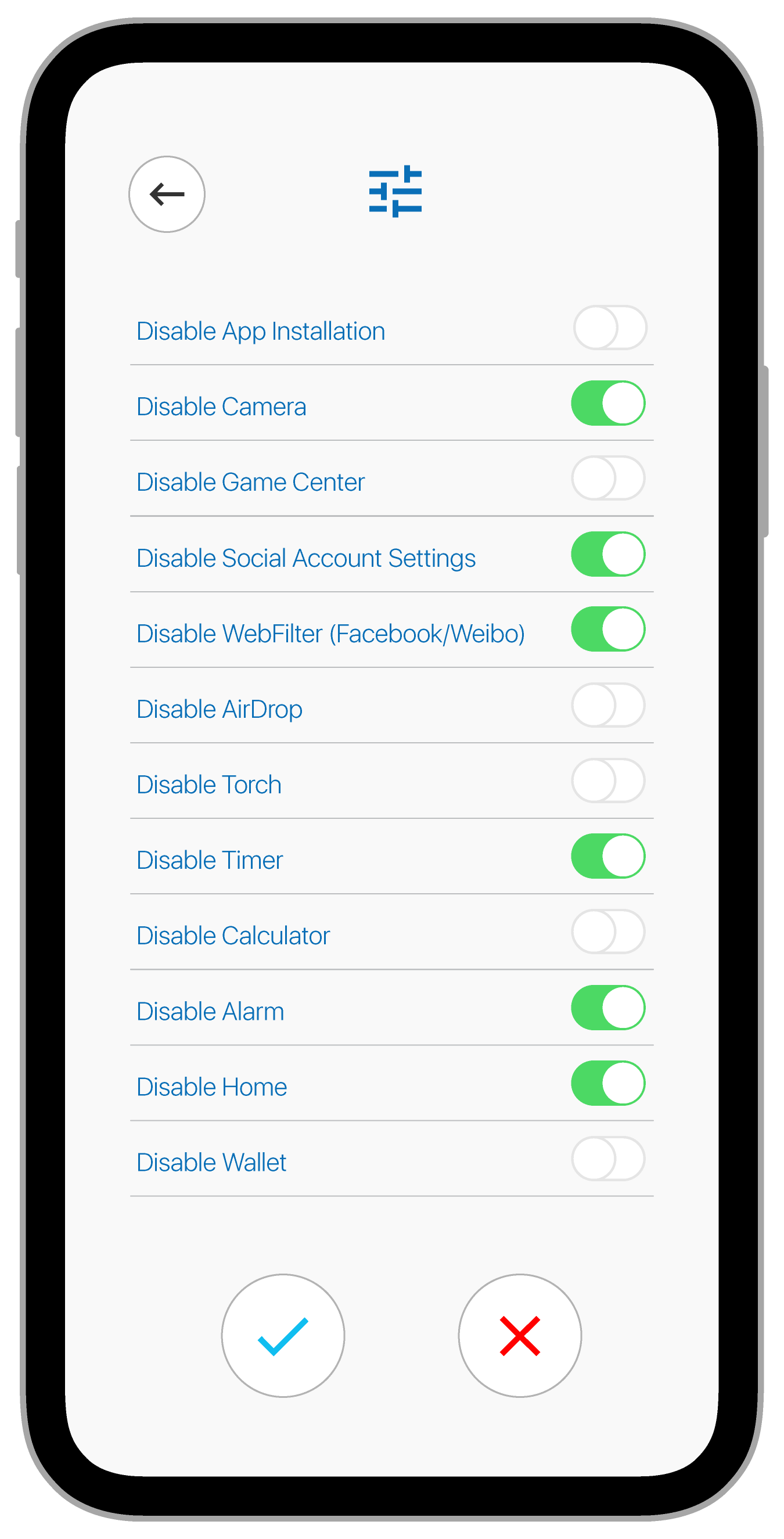 Disabling (GREY) means you ALLOW it.
Enabled (GREEN) means you Do NOT want them to use it.
Can ParSon block SMS and iMessage?
For mobile devices, SMS cannot be blocked, it is a default mobile's feature.
Is there a way to restrict non-internet based game usage with ParSon?
Yes.
You can configure the device to use "App Lock" and then "Hide" the app or turn on "Time Lock". You are capable to hide all 3rd party Apps, browsers, the camera and the App Store with these features.
What is MDM?
Mobile device management (MDM) is software that enables IT administrators to control, secure and enforce policies on smartphones, tablets and other endpoints.  The intent of MDM is to optimize the functionality and security of mobile devices within the school while simultaneously protecting the school network.
MDM relies on endpoint software called an MDM agent and an MDM server that lives in a data centre (either on-premises or in the cloud).  IT administrators may configure policies through the MDM server's management console, and the server then pushes those policies over the air to the MDM agent on the device.
The deployment of MDM will involve re-installation of OS and remote wipe of device.
Can ParSon block certain apps?
Yes and No.
It isn't possible for us to stop an app from running, so we can't stop games that don't have an internet connection. You have to use "Screen Time", "App Lock" or "Time Lock" to block these types of apps.
The most commonly used apps for teenagers are things like SnapChat, Facebook, Instagram and so on. We can block these apps because they require an internet connection to do their thing.
The best way to block these common apps is through a Rule. You can set up a Rule to block Social Media which will block all these apps from running. Our recommendation is to use a time-based rule for this as you don't want to block your child from being on social media altogether, just at certain times.
You can also add a single URL to a rule to block just "Facebook" for instance but not other Social Media apps.
Can ParSon work with my child's device when they use it at school?
Yes
– as long as the device does NOT have the schools MDM installed on it.
If your kid has any mobile device for school, ParSon will work just fine with it.
To set up your kid's ParSon-managed mobile device for school access, your school does have to register with us in order to have ESP work at the school, but once that is done, the rest is up to you.
If you don't see your school on the list, let us know, or even better, ask the school to register with us from this link.
Can my kids remove ParSon Kid from their devices?
No.
Kids can never remove "ParSon Kid" by their own. "ParSon Kid" can only be removed when they got Parent's permission in "ParSon Parent". Whenever anyone trying to remove "ParSon Kid", a notification will be sent to "ParSon Parent" for permission.
Can ParSon block In-App purchases?
Yes.
On the ParSon parent app, go to the Device tab for the required device and open "Control".
Switch off In-App Purchases.
This stops all in-app purchases on the device, while still allowing app downloads and updates.
Will Personal Hotspots still work on devices managed by ParSon?
Yes.
Any mobile device that has mobile data enabled will still be able to operate a Personal Hotspot once it is enrolled in ParSon.
How do I remove ParSon from my child's device?
Using the ParSon parent app:
You can remove ParSon in a number of ways. The easiest way is using the ParSon parent app since you don't need physical access to the managed device.
1. Log in to the ParSon (Parent) app
2. It should default to the list of your enrolled devices
3. Swipe from Right to Left on the device name to delete the enrolled device
4. Confirm your deletion, by tapping the icon of "Remove"
What mobile devices can I manage with ParSon?
Managed devices can only on Samsung model and Android 8.0 or above devices.
After pairing the kid's device, you will need to install ParSon Kid app on the kid's device.
* Certain Android child devices may encounter issues with remote management. If you notice issues with managing an Android child device, please reach out to our support for troubleshooting assistance and more information.



What level of usage detail can ParSon see?
ParSon can only see timestamp where the kid is near your preset locations, and add, update or remove Apps.
Please go to Log to check the activities.
Powered by HTML5 Responsive FAQ